Mayan Bingo Review & Experience
The Mayan culture is extremely attractive, so it's not surprising that Mayan Bingo is a very popular game. If you want to play online bingo for real money, this title might be a great option because of a broad range of betting options and attractive wins.
It is a production of Microgaming, a software developer that creates both desktop and mobile games of the highest quality. Since 1994 they have developed more than 500 games that regularly occupy leading positions in the gambling arena. Other Microgaming titles are Electro Bingo and Pharaoh Bingo.
Game's Specifications
As we have already said, Mayan Bingo is a great game both for beginners and experienced players because the bets start at 0.10 credits and may reach 8 credits. The general theme is Mayan culture and players are introduced to an ancient temple located in the middle of the screen. The displayed buttons are Demo Credits, Stake, Cards, Total Bet, Win, Change Cards, and Play.
One of the best things about Mayan Bingo is that there are several twists and turns which add excitement to a rather common bingo scenario. However, the game itself unfolds traditionally: 30 balls fall down the Mayan temple and line up at the bottom. 28 balls are yellow and 2 – white.
There is no need to cross out the numbers because the game does everything automatically: it scans your cards and searches for matches. There are 14 winning combinations in Mayan Bingo and the pattern is highlighted, so you won't miss it. If you are one number away from the winning pattern, you'll hear the Mayan drums and can purchase a maximum of 10 extra balls.
There are different Mayan Bingo combinations, so the payouts differ. For example, the basic combination pays out 50 times of the first wager. However, the most complex pattern can bring you a 50,000x prize! To win it, players need to match all numbers at the same card with the first 28 balls (highlighted in yellow). The won amount is shown at the bottom of the screen.
Our Verdict
Mayan Bingo is a fun, bright, and entertaining title from Microgaming which has 14 patterns of winning. You get a chance to earn 50,000 of the initial bet and there are different bet sizes for any wallet. When playing this bingo game, you will definitely forget about time and will dive into the atmosphere of ancient civilizations and wealth.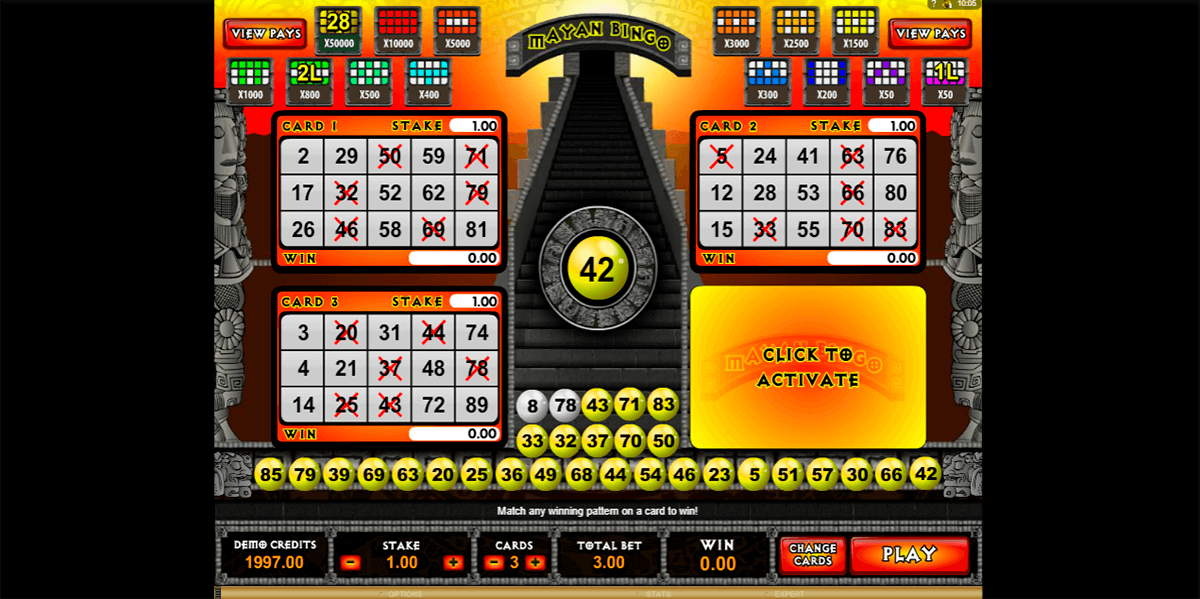 Most played Microgaming Bingo