Super Bola Bingo - Play Bingo
Super Bola Bingo Review & Experience
If you are a fan of bingo casinos, you have surely seen Super Bola in the lobby. It offers a perfect blend of traditional bingo and the latest features to ensure fun and profitable gambling. And if you have never played bingo before, choosing Super Bola will be a great idea. Along with Park Bingo and Sweet Alchemy Bingo, it was created by Swedish developers from Play'n Go. This company is fully licensed and is ready to surprise even the most demanding players.
Game's Specifications
Super Bola will come you to taste if you prefer a traditional and informative interface. When launching the game, you will be able to choose the number of cards and bet size. The screen contains numerous fields and buttons, so you always have access to the necessary data. For example, New Cards, Flash, Total Bet, Coin Value, Pause, and Jackpot. You also see the pool of drawn balls and your own cards.
Unlike other bingo games by Play'n Go, Super Bola's card contains 24 numbers with free space and a cloverleaf on it. The pool contains 75 numbers and they are randomly drawn. Players can choose up to four cards to play with.
If you play more than one card, the allocation takes place several times but you won't have two identical numbers on the same card. Once you have selected the settings, the game starts. The winning patterns are achieved by 44 regular balls. You don't need to do anything because the patterns are highlighted automatically.
After the regular release, players get a chance to purchase extra balls for additional winning patterns. However, to unlock this option, you should be only one ball from winning at least 15x of the initial credit.
There are two bonus features at Super Bola: the Fortune Wheel and the Bonus World Super Bola. The Fortune Wheel is triggered when collecting a perimeter pattern. You get a chance to spin the wheel three times and win one of the numerous prizes.
The World Super Bola is a bonus where you can collect the letter patterns to get the SUPER BOLA phrase in the initial round. This bonus will award you a prize of 1,000x of the initial bet.
Our Verdict
Super Bola Bingo is a game with traditional design, yet outstanding extra features and impressive wins. The interface is convenient and will be suitable not only for bingo lovers but also for beginners. We are happy to recommend this game to each and every one.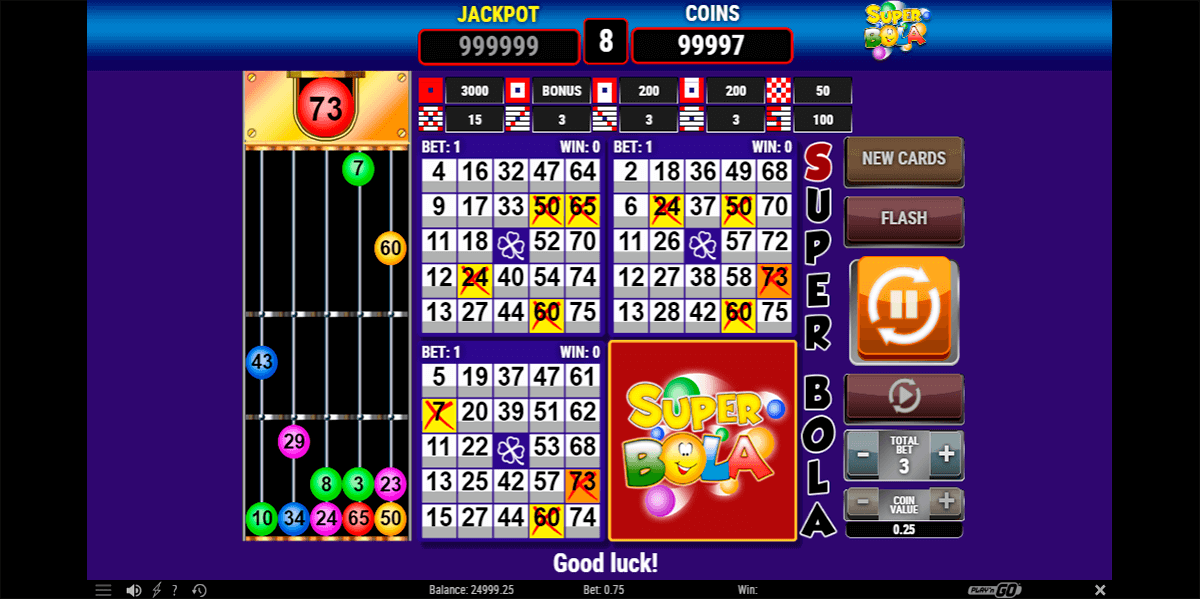 Most played Playn GO Bingo