Super Bonus Bingo - Play Bingo
Super Bonus Bingo Review & Experience
If you think that a bingo game can't surprise you, have a closer look at Super Bonus Bingo. While its aim remains the same – matching balls on the card and on the screen, this version offers a set of additional features, outstanding online bingo bonuses, and higher winnings that reach 10,000x of the initial bet. Continue reading to learn more about one of the best online bingo games on the modern market.
Game's Specifications
Have you ever played Pharaoh Bingo or Electro Bingo? If yes, then you know that Super Bonus is a top-notch title because it is also a creation of Microgaming. This software developer is a recognized leader and has developed hundreds of games since it was launched in 1994. Microgaming's titles are fast, have outstanding design, and are based on the latest software and encryption technologies.
The minimum bet at Super Bonus Bingo equals $0.05 and may reach $0.40 which makes this game good both for regular players and high-rollers. Unfortunately, a progressive jackpot is absent but there is an impressive jackpot that equals 10,000x of the initial bet.
The game begins by choosing the number of balls you are willing to play. It ranges from 2 to 10. Then you see a table with payouts and a quick guide. The payout increases along with the number of balls. For example, when matching two numbers, you get a 16x reward, 10 – 10,000x.
Apart from the standard gameplay, there is a bonus feature where the machine draws two additional balls and allows creating more winning combinations.
Design
Super Bonus Bingo has an appealing design with a blue background and orange tables. All the buttons are located at the bottom of the screen and allow customizing bets, repeating bets, and starting a new game.
If you trigger the bonus feature, you'll see a notification on the screen and you can either accept or decline the additional stake. Even though Super Bonus Bingo follows a classical theme, it offers the latest features and the interface looks smooth and modern.
Our Verdict
Super Bonus Bingo is one of the best online bingo games on the modern market due to its great software, informative screen, and high winnings. It has a relatively decent RTP of 95.39% and a user-friendly interface for maximum convenience.
The betting limits are rather diverse, so the game will come to taste both to new players and all-time bingo fans.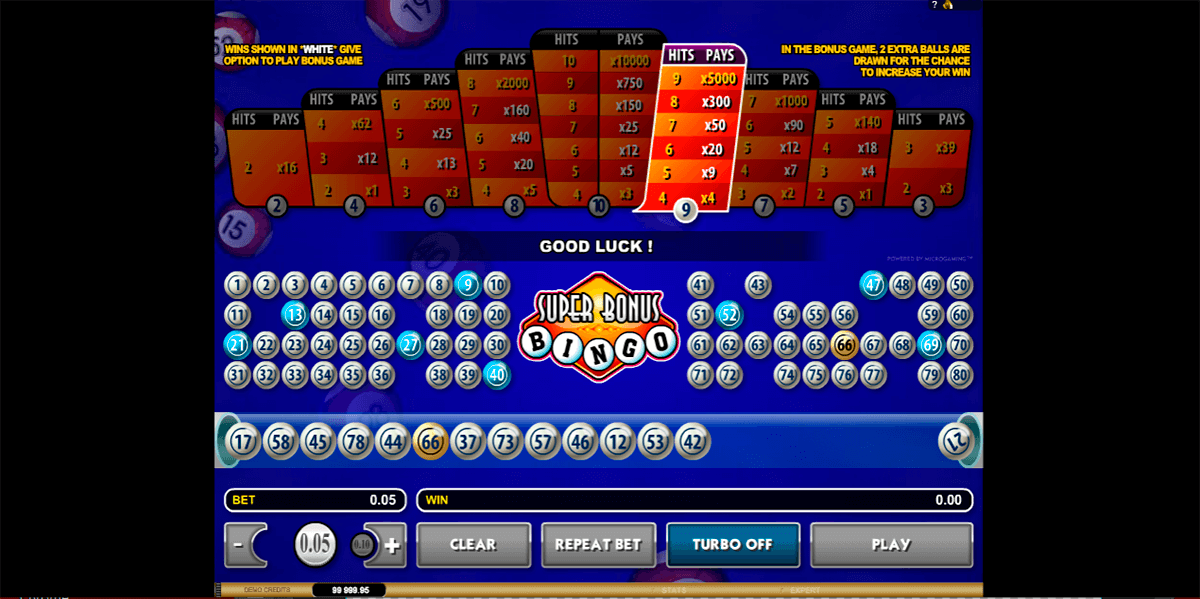 Most played Microgaming Bingo