Bonus Poker Deluxe - Play Video Poker
Bonus Poker Deluxe Review & Experience
Recognized software developers like Microgaming use to make extensions of their existing games. In this review, we will explore Bonus Poker Deluxe, a free video poker extension of the Bonus Poker. So what is this game and what are the main differences between the basic and the deluxe version?
Technically, the game is the same old Bonus Poker and is played with a 52-card deck with no jokers in it. We've got a similar payout table above the gaming screen and the play table is also similar. The player is to adjust the bet and press the 'Deal' button. Each time the deck is shuffled and you get 5 random cards. The goal is to hold the cards which are a part of a possible winning combination. The most beneficial combos are four of a kind, four aces, and the Royal Flush. The game will automatically suggest the right cards to hold and discard, but you can still make your own improvements. The maximum bet remains 5 coins. We can't say that the RNG is somehow different in comparison with the Bonus Poker. Only the dynamics of the game are slightly better.
We hoped for some improvements in the gambling bonuses, but we have only got the same 'Double' gambling feature. Whenever you get a winning combination, you are offered to double up your bet or collect at once. If you choose the double up, the dealer draws an up-faced card and you get 4 random down-faced cards. Your aim is to pick a card which has a bigger value than the dealer's one. No wild cards were added to the Bonus Poker Deluxe video poker.
Bonus Poker Deluxe by Microgaming is not a clearly reasonable extension of the basic version. It is still an average one among other video poker games in any online casino. It requires no download and shares all the other conventional features of any poker. Still not the best version, but worth playing.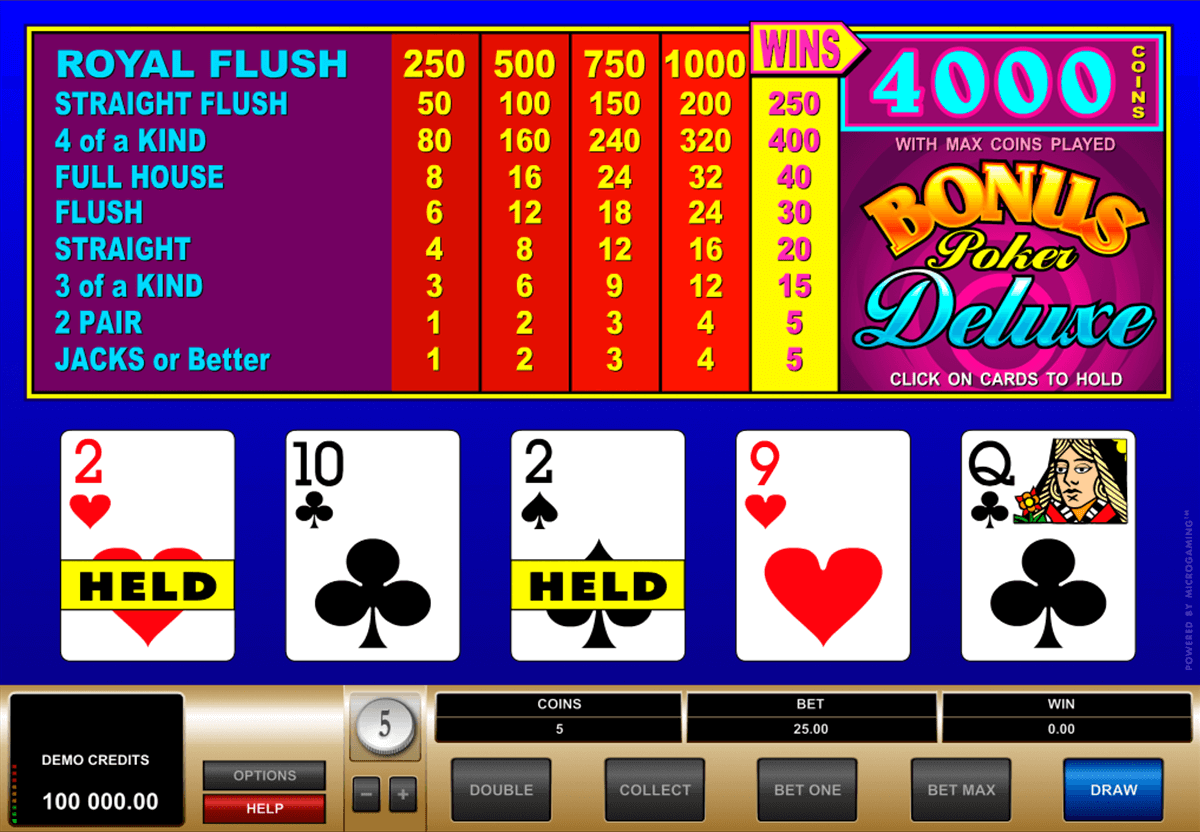 Play Bonus Poker Deluxe in Casino for Real Money
Most played Microgaming Video Poker