Bonus Poker - Play Video Poker
Bonus Poker Review & Experience
Bonus Poker is an average video poker representative of the Microgaming video poker games family. We are going to explore what is hidden under the simple interface of this game to understand how much efficiency can a player extract from such a gaming experience.
Bonus poker is played with a standard 52-card deck with no jokers in it. You can see a payout table above the gaming screen and some bet adjustment buttons. To start the game, yo should just simply adjust your bet and press 'Deal'. You get a hand of five cards which can be discarded to draw other random cards from the same deck for a better winning combination. The game will automatically suggest which cards to hold and discard for the most possibly efficient combo, but you can always change it. In this particular free video poker, your aim is to get a four of a kind, four aces or a Royal Flush which is the best combo and pays 4000 at its maximum. The minimum bet is 0.25 and the maximum bet is 5.
There are no wild cards in this game. On the other hand, to increase the entertaining level of this game, you can see a special doubling up mechanic. Whenever you have a winning combination, you are offered to collect at once or double your bet. If you press the 'Double' button, the dealer draws up-faced cards and, therefore, offers you to choose between four down-faced cards. Your goal is to choose a card that has a higher value than the dealer's card randomly. It is possible to go on doubling up until you face the casino limit, but you should be extremely lucky.
Bonus Poker by Microgaming is overall a balanced game among other casino games and is clearly easy to play. On the other hand, we can't call it the best ever established by Microgaming. Just a distinct game which requires no download.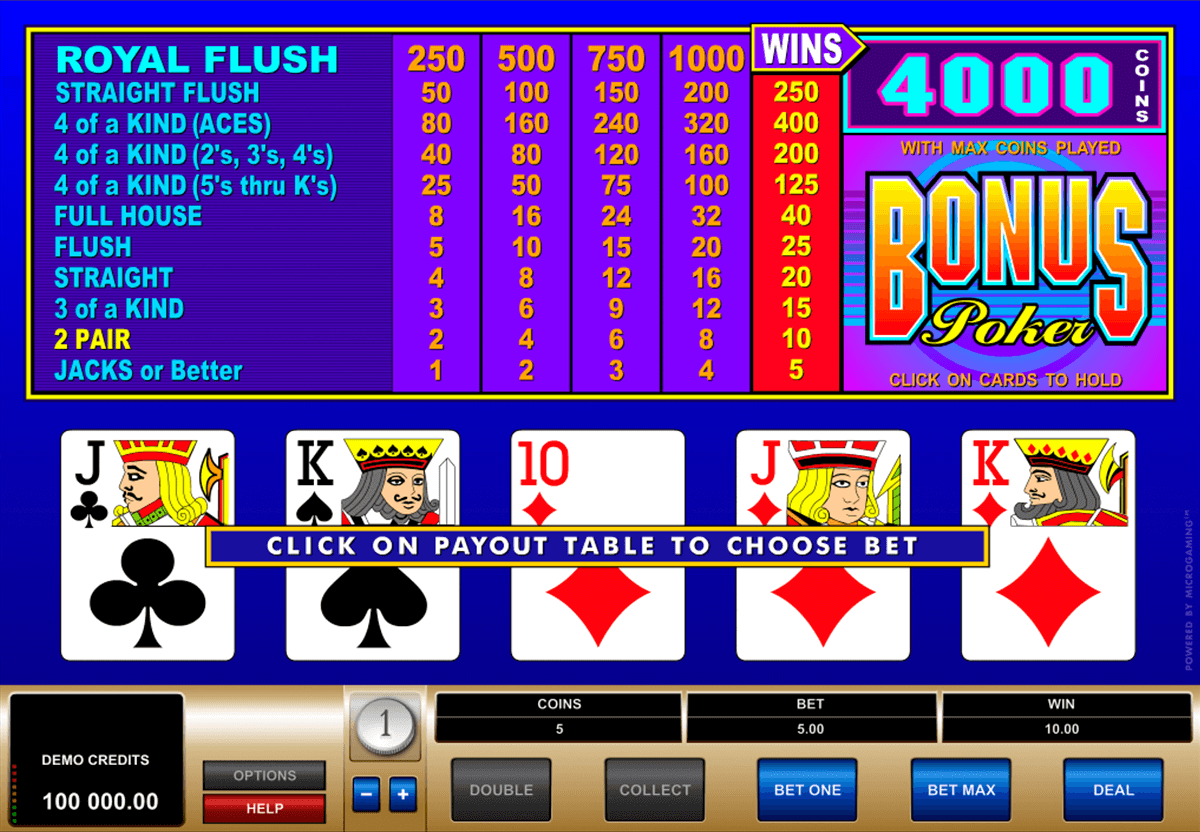 Play Bonus Poker in Casino for Real Money
Most played Microgaming Video Poker