Double Jackpot Poker - Play Video Poker
Double Jackpot Poker Review & Experience
Double Jackpot Poker is a free video poker game by Betsoft which has an unclear title. Obviously, you can tell what video poker games are just by reading the titles. In this case, it doesn't refer much to the gameplay and we will try to explain why.
Basically, this video poker game is played with a standard deck and it is not clear what does the Wild Royal Flush in the paytable three cards section means because there are no wild cards. It is not possible to call the Help window, but we tried multiple deals to ensure that wild cards are not included. The jackpot is not mentioned in the game straightforwardly, but it is not accessible in the free version anyways. The betting range varies between 1 and 5 and it is split for three separate paytables, so the total bet is 15. We guess that the three card tables work from right to left and from left to right. For example, the first three cards from the left side build up the combos for the right table. It is still not clear why did they call the Royal Flush a wild one. The cards are not held automatically, which is the only advantage. Yes, it is better to make strategic decisions yourself.
The bonus round is utterly regular as for a casino video poker. In this online game, we are offered to double up or lose by guessing a card, which should have a higher value than the dealer's one. In the case of a draw, the round is replayed. The number of attempts is unlimited until the casino limit. Not the best gambling round, but it can be found in mostly every single video poker game.
Overall, Double Jackpot Poker would have been better if it had a clearer interface and rules, including the title. The gameplay is simple, as it should be, and there are no other excessive points. After all, the game deserves to be played at least for another gaming experience and requires no download.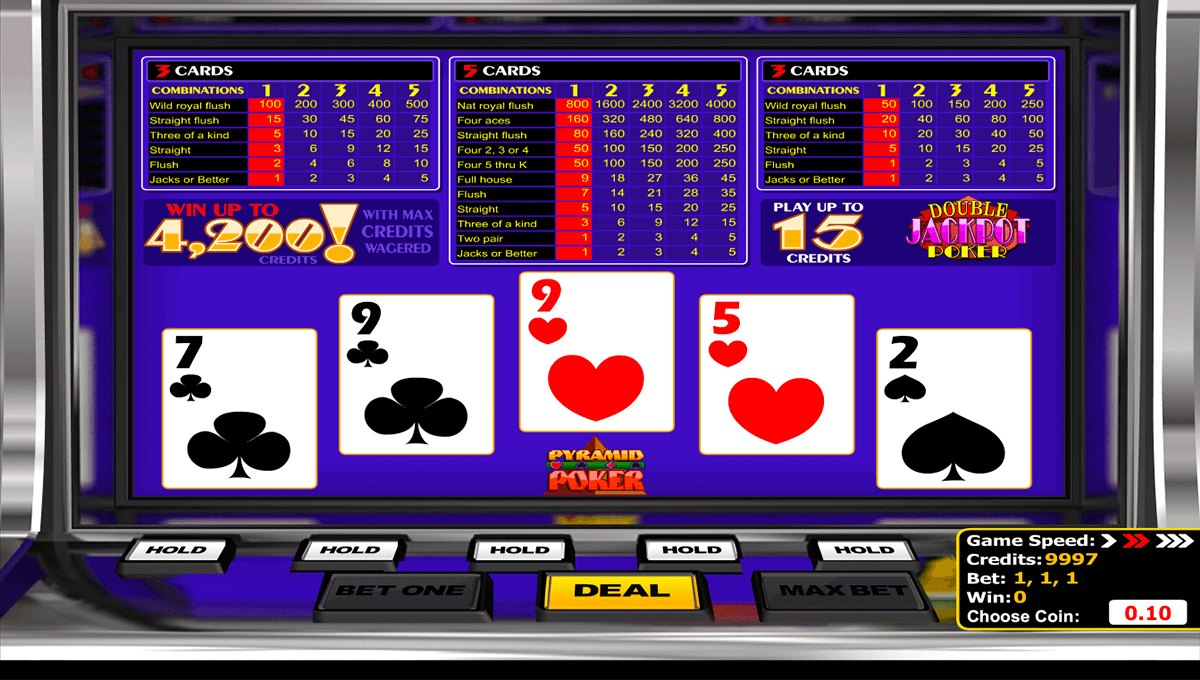 Play Double Jackpot Poker in Casino for Real Money
Most played Betsoft Video Poker