Double Up Feature In Online Slot Machines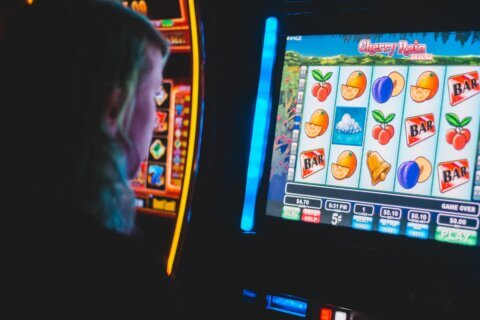 The online gambling market is extremely diverse. Users have a chance to play slots, table games, progressives, poker, and other titles on their laptops and smartphones. They can choose from thousands of online casinos and hundreds of software development studios.
There is also a big variety of features that both video and classic online slots are able to offer. For example, free spins, wilds, stacks, and jackpots.
However, there is one feature that many players are chasing: double-up. Even though it is not available in all pokies, the feature is surely worth finding. In this post, we want to tell you what it is about, reasons to pick a double up slot casino, and the most popular pokies at the moment.
What Is a Double-Up Feature
The double-up feature has two distinguishing aspects. The first one is that the feature is triggered only when you have won in a game. Let's say, you are playing a double-up slot and have won a particular number of coins. That is when you should decide whether to take the winnings and leave, continue gambling in a regular mode, or risk the money in the hope to double or even quadruple it. If you win, the machine offers the feature once again and you can decide whether to collect the winnings or try one more time.
Each slot has its own requirements. For example, some pokies generate the double-up feature only when winning on paylines. Others – while playing the bonus round or using the free spins.
The second thing to remember is that the number of outcomes is always limited. For example:
Players can double the winnings;
Players can quadruple the winnings;
Players lose the winnings;
Players continue gambling in a regular mode.
Keep in mind that the double-up feature is an additional, not the main one. That is why you should expect anything extraordinary from it: just a few clicks to increase the winnings.
The Way It Is Implemented
Now, when you know what double up online pokies are, we want to tell you more about how they operate and what you can expect when triggering the feature. Fortunately, it is extremely straightforward and even if you haven't played before, you'll figure everything out in a matter of seconds. Just press the button you think is correct. If you decide to try and increase your winnings, most likely you are going to face a deck of cards. The main requirement is to guess the feature of a card face down. For example:
Guess the color (black or red) of the next card. If you pick the right option, your winnings will double because there are only two outcomes.
Guess the suit. There are four possible outcomes: diamonds, hearts, clubs, and spaces. Thus, the chances of winning make 25% and you have an opportunity to quadruple the sum.
Random comparison. In this case, you will be shown one card up. For example, K. Then, you will be offered four or five cards faced down to choose only one. If the value of the chosen card is higher than the one selected by the machine, you win. If lower – you lose.
If you want to get unique experiences, get familiar with casino games popular in Asia and stick to the ones which have the double-up feature.
The Best Double Up Slot Machines
After reading the above, you probably can't wait to try out various double up online slots. To save your time, we have made a list of top-5 pokies that can boast this engaging feature:
Book of Dead (RTP – 96%). This machine was created by Playn'Go and introduces us to the world of Ancient Egypt with such symbols as gold, phoenix, and sphynx. By selecting the red or black card or the suits, you can double or quadruple the winnings.
Magic Spinners (RTP – 96%). First launched in 2019, this fruit machine has 243 paylines and a 3,000x jackpot. Apart from the double-up feature, it has win both ways, free spins, and wilds.
Cabin Fever (RTP – 96.5%). If you are a fan of horrors, this Microgaming slot will surely be a great choice. Such symbols as log cabins, squirrels, and bears are covered in frost, and the background music makes your blood freeze. There are 20 paylines and 5 reels.
Medusa Megaways (RTP – 96.28%). This slot has an appealing ancient Greece theme and was created by Nextgen. The double-up feature offers players to choose the card color or suit with 1:2 and 1:4 odds respectively. Apart from this feature, there are free spins, multipliers, scatters, and wilds.
Game of Thrones 243 Ways (RTP – 94.86%). It's difficult to find Game of Thrones fans who haven't played this pokie machine. It was created by Microgaming which ensures outstanding design and fairness of outcomes. The maximum win equals 20,000x of the bet and the double-up feature is complemented with lots of other perks.
We have indicated the RTPs not by chance. Even though the double-up feature doesn't alter games' return-to-player rates, this indicator remains one of the most important factors when choosing a pokie to play.
Should I Use The Double-Up Feature?
One of the biggest concerns that people have about double up casino games is that you put yourself at a higher risk. However, you always face the house edge and risk your money not depending on whether you spend it in a usual way or test the double-up feature. You should just remember that this feature is the same as making a high bet – it has both positive and negative outcomes.
Pokies are the game of luck and you can't predict the outcome. That is why before choosing a machine with this feature, you should be aware of the funds you are able to spend without any stress. Proper financial management is one of the best instruments when gambling and we recommend using it not depending on the game you choose or the bet you make.